IFG Spotlight: Breast Cancer Awareness
For fighters, survivors, and advocates:
Stand tall, we've got your back.
IFGfit Supports the Fight Against Breast Cancer
Survivor Advocate Spotlight: Vivian
"My name is Vivian Chan and I am a breast cancer survivor for almost 17 years. I wish they had this particular attire – the bra, to help correct your posture - back then when I was under treatment. (…) I think this is a wonderful help, especially when you're depressed during treatment - you have something to make you feel better!"
-Vivian
Survivor Advocate Spotlight: Morgan
"My mom thankfully survived breast cancer and has been cancer-free for 5 years. The effects Chemotherapy have had on her body have been devastating and she now struggles with a slipped disk, muscle spasms and other issues. IFGfit bras help her to maintain good posture and breathing so she can find the relief she deserves. I can't wait to get her the new pink bra for her birthday!"
-Morgan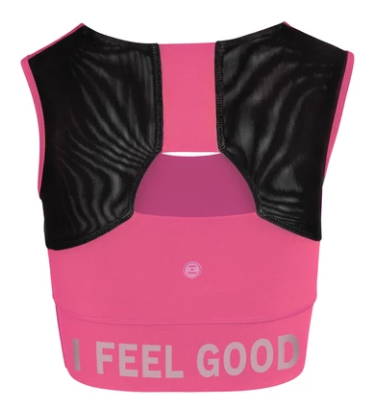 Easy, seamless and comfortable. Our Arya life changing posture bra is a scoop neck spin on our beloved Lisa bra, with continuous posture correction, immediate chest expansion and confidence for all sizes. Featuring a low-rise neckline, the Arya bra can easily be worn under most garments. The Arya can do it all - wear solo or as a layer, while you are training or on your days off when you need more comfort. The interior, just like the Lisa bra, features 8 different panels of fabrics with our PPR technology inside to quickly reduce neck and shoulder stress for less fatigue, and faster recovery.

Survivor Advocate Spotlight: Rachel
"The women in my family have had breast cancer. I like this bra and what the company stands for because I think that IFGfit bras will help people going through breast cancer breathe better, feel more confident, and give them the support they need. It makes the experience more comfortable for patients going through chemotherapy. It helps everyone feel more confident and beautiful.
-Rachel
FDA Class II Medical Device
IFGfit products are patented FDA Class II 510K exempt medical devices developed by an orthopedic surgeon for to improve posture, reduce fatigue, and promote better breathing.
All Day Support and Relief
Exclusive PPR technology corrects posture and retrains your body's spinal proprioception to combat neck and back pain, enabling support and relief for all wearers.
IFGfit products are tax deductible. If you have an HSA/FSA account, you can purchase our products and file a claim with your provider to get it reimbursed.